There are two things we need to get our heads around when thinking about how to develop a strategy for success: firstly, what is a strategy? And secondly, what is success? Different people will have slightly different answers, but there will naturally be common themes.
Just the word 'strategy' can have the potential to cause panic, overwhelm or perhaps even indifference. Because, let's face it, strategy isn't always perceived as the most exciting of areas to spend our valuable time on. Therefore, it often ends up being the area we spend the least amount of time on, when it should be the most!
The aim of this blog is to help you to understand why strategy needs to be a priority; how strategy can and should be applied to both your personal and professional lives; how to build a strategy for success; and why knowing where you are going is the starting point.
I am going to share a recent experience in my personal endeavours to help bring to life why having a strategy will bring success (I even have the medal to show for it!).
What is strategy?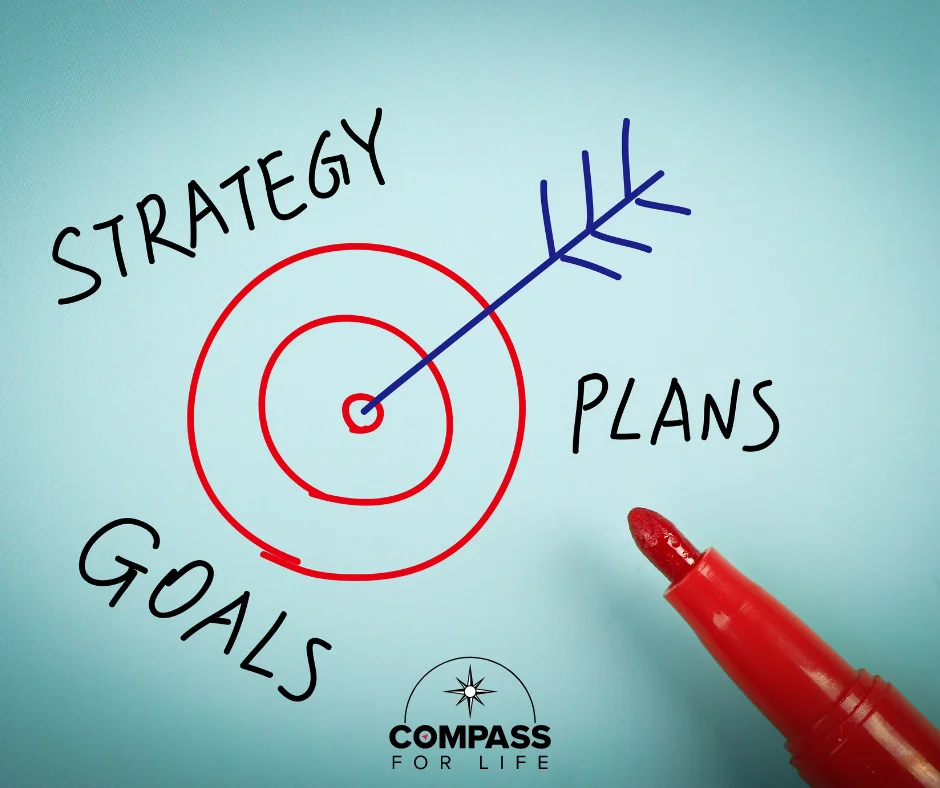 What comes to mind when you ask yourself, "What is strategy?". Historically, I would have only thought of strategy in a work sense. The strategy being what underpins how we are going to achieve what we are aiming for.
In fact, the dictionary definition of strategy is:
Wikipedia defines strategy as 'a general plan to achieve one or more long-term or overall goals under conditions of uncertainty'.
I recently found this definition which really resonates with me because it simply defines strategy as 'where to play and how to win'.
Whichever definition of strategy resonates with you, go with it. Ultimately, strategy is the thing that is going to move you along your journey to the place you are looking to go. However, this does mean that you need to know where you are going (we will come back to this later).
Whether you are a full time mum or carer, a CEO in a FTSE 100 organisation, a major in the army, a Year 8 student, a nurse, an office worker, an athlete or an astronaut, it is a strategy for success that will get you moving in an efficient way.
What is success?
You might have noticed by now that I love offering a variety of definitions and this is because it's all about finding out what works for you; and one size doesn't always fit all. The dictionary defines success as 'the accomplishment of an aim or purpose'. Other definitions include:
Success in life means attaining your vision of a good life.
Being successful means the achievement of desired visions and planned goals.
A quick Google search comes up with lots of definitions and this particular article is really thought provoking and offers a few alternative thoughts for you to consider when it comes to your own success. Something all of the definitions have in common is the need for a vision and/or goals. At Compass for Life we call this your Super North Star. Which brings us nicely on to the first top tip for developing your strategy for success.
Top Tip 1 for developing your strategy for success – Have a Super North Star
What do we mean by 'Super North Star'? According to the Compass For Life philosophy, your guiding Super North Star is where you want to be. It sits high in the sky and no matter what obstacles come along, you can always see and follow your Super North Star. At any one time, you may have several Super North Stars which relate to different areas of your life. Some might be long-term whilst others might be things you are working on in the shorter term.
Work Super North Star examples:
Get promoted to head of department
Own my own business
Get back into employment after a break
Retire by 50
Personal Super North Star examples:
Complete Couch to 5k
Fall in love
Spend more time with friends
Travel the world
Whatever your Super North Star is, it's yours to own. There are no right or wrong answers because it is unique to you.
Question… Do you have a clear Super North Star? If not, grace yourself with some time to think about what it is that you want in life. Remember, if your goals don't scare you they are probably not big enough. Check out this short clip with Idris Elba about what you want to be when you grow up for a little inspiration.
At Compass for Life we work with some amazing individuals and organisations including the British Army, the NHS, Education trusts and more recently we have added the Prison service to the portfolio (check out my previous blog to find out more about my recent trip to Lincoln Prison) to support their navigation through the four cardinals of the Compass. By doing this, we truly believe that you will become extraordinary, do extraordinary things, get extraordinary results, and live extraordinary lives. But it must start with the Super North Star.
My recent cycling endeavour is a great example of why having a clear Super North Star AND strategy for success will lead to success.
My Super North Star – to complete the Mallorca 312
The Mallorca 312 is a cycle event which covers 312km (196miles) and 5000m (15,000 feet) of climbing in one day. When the start gun goes at 06:30 everyone's time starts ticking. The first challenge (apart from a 30km climb) is to reach the first cut off point to then be allowed to continue on the 312 route. If you miss it, you are diverted to a shorter route. There is then another cut off point later in the event which again you must make. Then, if you make that final cut-off point, the overall time you must complete the ride in is 14 hours! After this, everyone has gone home and you won't get a medal.
Top Tip 2 for developing your strategy to success – Make time to build your strategy
With a Super North Star now in place the next step is to set aside time to work on your strategy. The good news is Compass for Life already has a template that you can use.Here is mine for the Mallorca 312: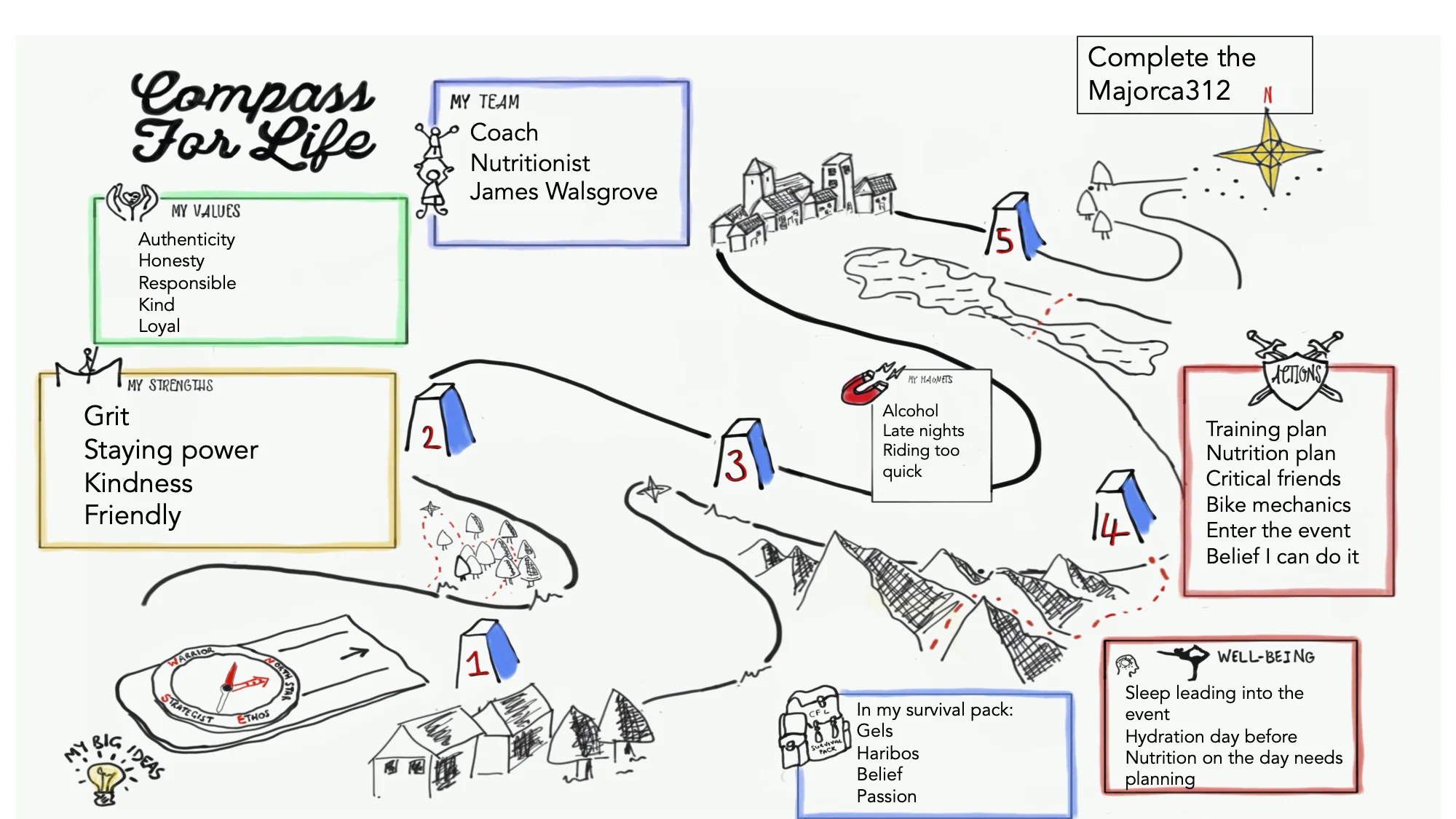 Please don't do what so many do and only give limited time for the development of the strategy. Time spent on careful planning at this stage will save you time in the long run.
I started planning my strategy seven months before the event. This was really important because there were a number of milestones that needed adding in. One thing to be conscious of is being realistic of what time you actually have available to dedicate to your Super North Star. This is the same whether it's a work or personal one.
From my example I had to be realistic about how much time I had to train for the event. Typically, I am training for long-distance triathlon which I continued to do, but I made time for more longer rides a few weeks out from the event. In the work place, you will know the resources you have available in terms of people and finances and therefore, the time available all which you must build into your strategy.
Top Tip 3 for developing your strategy to success – Collect the facts
All too often in life we make assumptions rather collecting the facts! Ideally, we want to collect these facts from couple of reliable sources. Think of multimillion pound companies– they don't make big strategy decisions based on what they read on social media or overheard in the toilets. Instead, they carry out meticulous research to get the reliable facts upon which to make strategic decisions.
The Mallorca 312 is an annual event so I knew the facts were available. These included things like the course profile, where the big climbs are, where feed stations are, when and where the cut off points are etc. Knowing these facts allowed me to build a careful race day strategy. Without these facts I would have been basing my strategy on hearsay from either the bloke sat behind me on the plane or the man whose wife has done the event endless times! Which leads seamlessly into my next top tip.
Top Tip 4 for developing your strategy to success – Utilise experts
If someone knows more than you, then make good use of them (if they are a reliable source of course)! This is why businesses use coaches and mentors to work with staff, why athletes have coaches, why children have teachers and why the army has instructors to train new recruits. Remember, we are not expected to know everything and when we are collecting the facts from the previous tip we need to find those reliable sources. If you are working on a strategy at work then you might recruit a mentor or coach to help you. They might be from within or outside the organisation.
My Mallorca 312 expert was business owner and cycle coach James Walsgrove (Ride Harder). James is the absolute expert and professional when it comes to this event. He has successfully completed it on numerous occasions and for 2022 was the official training partner of the event, helping many with their training programme from the start of the year.
Fortunately, I have known James for a long time and so was able to tap him up for some of his best tips and 'wow' did they pay off. This event is all about marginal gains and this is what James helped me with. Things like being at the start line 75 minutes before it starts to get near the front (honestly a 4am wake up time was fine with me!). Missing the first feed station to ensure you get to the first cut off point. Drinking coke from your bike bottle (I will follow up in another blog with what happened when I basically drank caffeine for 13 hours after not having it in over 2 years)!
Top Tip 5 for developing your strategy to success – Take risks, be relentless and have belief
Every major breakthrough in history, in business, science, medicine, sports, etc. is the result of an individual who took a risk and refused to play it safe. Successful people take risks, but they don't take thoughtless risks. Only a fool rushes in.
Therefore, when it comes to building your strategy you need to be prepared to take risks, follow things through relentlessly and underpin this with an inner belief that you are always doing your best.
For me the Mallorca 312 was a massive challenge, I had never ridden more than 120 miles (and that was a long time ago). Living in Norfolk we don't have many hills so the 15,000ft of climbing could be perceived as a risk. But why would I not put myself on that start line? With a carefully planned strategy, based on the facts, making use of experts I had as good a chance as anyone else. In fact, I had a better chance than most because I had a race day strategy. This is why when I rolled over that finish line 13 ½ hours later I was amongst an elite group of 1500 who finished the event and was one of only 80 females to complete.
Remember, strategy can be applied in personal and work life. Carefully planned strategies take you from A-B and help you with the diversions that might get thrown at you along the journey. But above all, you must have your guiding Super North Star because when you have an emotional connection to this, when the going gets tough you can dig deep and be relentless in your desire to keep moving along towards it.
Scroll down to see my before and after videos and also here is my happy little face wearing my medal with pride at the end!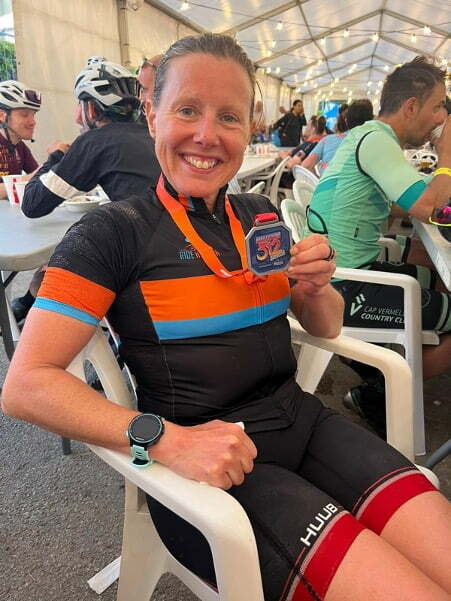 What's your Super North Star? What's your strategy for success? Let us know in the comments or share your thoughts with us on Twitter and LinkedIn.